goshenstonework.com
Artistic stonework construction
built on the value and beauty of natural stone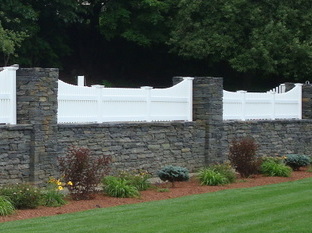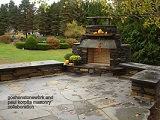 Goshenstonework is Joseph Johnson, Lucian Picariello and Joshua James. Visit our galleries of goshen and field stone walls that we have built throughout Western Massachusetts, Southern Vermont and New Hampshire. These natural stone installations include freestanding walls, retaining walls, terraces, and fieldstone walls. We craft each installation on budget and on time and references are available.

For flagstone work, please browse our galleries of patios and walkways designed and built around Western Mass. We cut native Goshen Stone and create beautiful mosaics, no two alike; and we set patios with dimensional Blue Stone in all its colorful, geometrical patterns.

We also have a variety of custom stone staircases and
Idea Galleries featuring our stonework projects encompassing a wide range of design build solutions.
>
We are happy to provide you with a free estimate.
For Stone Walls, Walks, Patios, and Steps Designed, Built or Restored contact:
Joseph Johnson, Greenfield, MA(413)522-9051 | Lucian Picariello, Hadley, MA (413)512-0225 | Joshua James, Bernardston, MA (413) 824-7002